Anybody faced with a ragged, unkempt home or business exterior landscape would love to improve their floundering aesthetic while minimizing the required upkeep. Nobody wants to spend countless hours in the garden performing backbreaking labor. Nor do they want to pay a fortune for landscaping services on an ongoing basis.
After all, most homeowners and business owners want their exteriors–back and front–to look immaculate. However, not all property owners have the time, energy, and resources to make this happen. Thus, there's a need to be strategic on top of being design-focused.
One solution many businesses and homeowners implement is concrete landscape edging (also known as concrete landscape curbing).
Finding the ideal concrete landscape edging for your property's exterior bolsters your garden's appearance without sinking your savings. Specifically, choosing the best concrete landscape curbing option makes your exterior sleeker, more streamlined, and pleasant on the eyes.
You might be unsure if this option is best for your business or home, partially because you're not 100% what concrete landscape edging entails. Don't worry–the experts at The Textured Edge have you covered.
What Is Concrete Landscape Edging?
The aim of concrete landscape edging–or concrete landscape curbing–is to make a border to separate 2 types of ground. For example, you'll see this type of border between a flowered garden and a pawn.
Another primary objective of concrete landscape edging is to prevent grass from interfering with the flower bed or garden. It's also meant to enhance the vibrance of the landscape surrounding your home or business.
Concrete landscape edging installation is an intensive process that molds itself around your chosen design. 
Undoubtedly, the process of concrete landscape edging for your home or business is labor-heavy. Yet, hiring an expert like the professionals at The Textured Edge makes it seem like a breeze. You can rely on us to get the job done efficiently, causing zero headaches throughout.
We've worked with homeowners and businesses like yours to offer custom concrete landscape edging solutions for years. In that time, we've developed methods that make the process seamless. You'll barely recognize we're there until the job is done and we've transformed your property's exterior into a work of art!
With this knowledge in mind, we'll now detail the 3 top benefits of concrete landscape edging:
Concrete Landscape Edging Benefit #1: Increasing Curb Appeal
When homeowners invest in concrete landscape edging, they enhance the curb appeal of their property. Provided you're interested in selling your house, this benefit means you'll attract willing buyers like honey attracts bees.
The fact is that people judge books by their cover. Potential homebuyers are far likelier to schedule viewings of a home with gorgeous concrete landscape edging than with a property with an unkempt lawn or garden. 
Then, even if you don't want to sell your home, concrete landscape edging increases your property's on-paper value, providing several benefits. First and foremost, it'll increase your chances of being approved for a favorable home equity loan and flexible home refinancing options. 
The above financing options can lead to further improvements in your home, whether maintenance or massive renovations. With a suitable home refinancing plan, you can upgrade your home without pulling money from your savings or committing to a high-interest loan.
As for businesses, the above benefits are still in play if you own your property. 
Plus, there are other advantages that concrete landscape edging offers business owners. 95% of surveyed customers claimed their shopping choices can be swayed by a store's exterior. Moreover, 2/3rds of surveyed customers claimed to have not entered a store because of its outer appearance. 
Any business owner should salivate over the potential returns you'd get on your investment for concrete landscape edging. You'll attract more customers and earn more sales revenue than ever for a reasonable upfront price. That's just good business!
Concrete Landscape Edging Benefit #2: Durability
Concrete isn't the only landscaping edging option available to you, but it's undoubtedly the most durable. 
By choosing concrete landscape curbing, there won't be any warping, separating, rotting, or other forms of deterioration. Even in the face of harsher weather conditions, your concrete landscape edging will hold strong. 
The durability of concrete landscape edging lends itself to permanence. In other words, once you add concrete landscape curbing, you won't need to replace it. Your long-term savings will thank you since the lasting nature of concrete edging is far superior to other materials like wood, metal, and plastic. 
We'll point out that concrete landscape edging can chip or crack. However, repairs aren't tricky and can usually be mended with concrete patching products. 
As a business owner or homeowner, the durability of concrete edging and the resulting reliability is priceless. There's no need to stress over ongoing maintenance costs, repairs, or upkeep. That sounds like a worthy investment to us!
Concrete Landscape Edging Benefit #3: Emphasizing Your Exterior With Versatile Options
Other non-concrete landscaping edging materials (e.g., wood and plastic) are more functional than form-focused. Their benefits are of the unsung, silent variety, and they're installed to not be visible. There are some advantages to these more subtle features, but none have to do with aesthetics.
Conversely, concrete landscape curbing is a standout, highlighted feature on your business or home's exterior. It's something you want all onlookers to see.
Therefore, concrete landscape edging installers–like The Textured Edge–offer an exhaustive list of design possibilities to enhance your lawn or garden. You aren't saddled with lifeless grey concrete but can instead implement inviting, earthy shades that mesh with your garden. 
It's possible to shape concrete landscape edging to resemble brick, stone, and other nearby paving materials. Pebbles and shells can also be added to the concrete landscape curbing. Other options, such as stone tile or brick veneers, can be placed atop the concrete to provide a more decorative appearance. 
At The Textured Edge, we offer multiple styles (e.g., Belgium Block, Angled, and Mowers Edge). 
On top of that, our texture options–such as New/Old Flagstone, Staggered Brick, Random Rock, and Ashlar–are vast. You can also choose mojave, khaki, terra cotta, sandstorm, or gray as base colors. Lastly, charcoal and dark walnut are available as release colors.
Feel free to learn more by contacting our customer service team at The Textured Edge. We're happy to answer any questions you have about concrete landscape edging!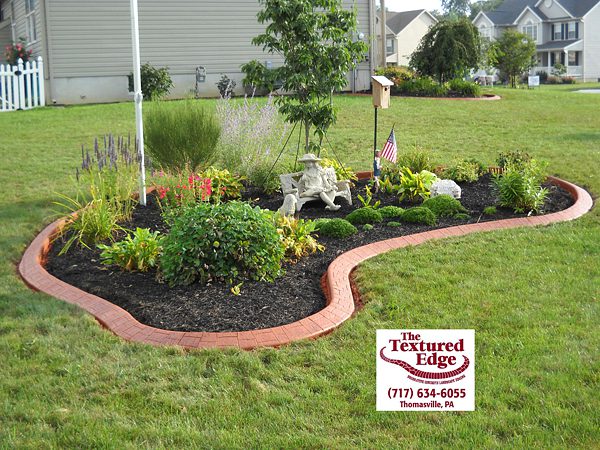 Bonus Benefit Of Concrete Landscape Edging: A Transparent Process You Can Trust
There's a reason this particular benefit has its own bonus section–it only exists when you choose The Textured Edge to install your concrete landscape edging.
With other projects or different concrete landscape curbing companies, you can potentially sign up for one experience and then end up with unrelenting surprises and complications. The pitfalls of such a scenario are nearly endless. Namely, what should be a convenient, hassle-free installation process turns into an extended debacle that disrupts your home life or business comings and goings.
You deserve a transparent process when working with a concrete landscape edging company. 
There shouldn't be any mystery or unforeseen shenanigans putting a wrench in the project. For these reasons, The Textured Edge details our concrete landscape edging process from beginning to end. Here's how it looks:
Step 1: We mark the ground with spray paint once you've approved the design.
Step 2: Grass gets removed with a sod cutter. Existing beds are also preserved during this process.

 

Step 3: We mix a fresh batch of concrete in our custom trailer.
Step 4: After loading the concrete into wheelbarrows, we feed it through an extruder, creating a continuous concrete curb piece.

 

Step 5: We ensure smooth flowing curves by using a hand trowel.

 

Step 6: Selected textures get added by using stamps and rollers.
Step 7: We cut expansion joints every 2 to 3 feet when the concrete is still wet. In doing so, the curb can shift during any changes in temperature while holding tough against potential cracking.

 

Step 8: Lastly, we use a sealer to spray the concrete, protecting the curb from the elements.

 
What's most important to us at The Textured Edge is ensuring that the process is unique and exciting for businesses and homeowners. Outside of an excellent completed product, our primary focus is treating your property respectfully and being available to answer your questions.
Get Your Free Concrete Landscape Edging Estimate Today!
At the Textured Edge, we're proud to be the go-to source for concrete landscape edging in Maryland and Pennsylvania. Our dedicated team of experts is committed to completing high-level work worthy of your home or business.
If you want some proof of our high-level handiwork, click here to see our gallery of completed projects. We take tremendous pride in our craft and guarantee you'll be blown away by our most recent jobs.
Like what you see? Then, receive a free estimate by filling out a form today!